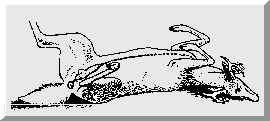 FIELD DRESSING
Dress your deer or antelope immediately.
Admittedly, the field dressing chore is not the most enjoyable part of the hunt, but the extra time spent taking care of the meat will pay dividends at the table. Field dressing takes effort, so your heavy hunting coat should be removed and your sleeves rolled up so they wont be soiled. Disposable vinyl or latex gloves lessen the chances of passing infectious diseases and make hand cleaning easier.
Blood and digestive juices from organs possibly penetrated by the shot must be removed from the body cavity quickly, and the sooner the organs, which deteriorate rapidly, are removed, the faster the meat will cool. Field dressing also eliminates dragging unnecessary weight when moving the animal.
Before starting the field-dressing process, keep in mind that it is important to keep dirt and foreign objects away from the exposed body cavity. Removing the scent glands is not considered necessary, but is done with care by many hunters. Some archery hunters save the glands for use as scent while hunting. Removing the glands carelessly can taint the meat.
Roll the carcass over on its back with the rump lower than the shoulders and spread the hind legs. Make a cut along the centerline of belly from breastbone to base of tail. First cut through the hide, then through belly muscle. Avoid cutting into the paunch and intestines by holding them away from the knife with the free hand while guiding the knife with the other.
Unless the head will be mounted, the cut should pass through the sternum and extend up the neck to the chin to allow removal of as much of the windpipe as possible. The windpipe sours rapidly and is a leading cause of tainted meat.